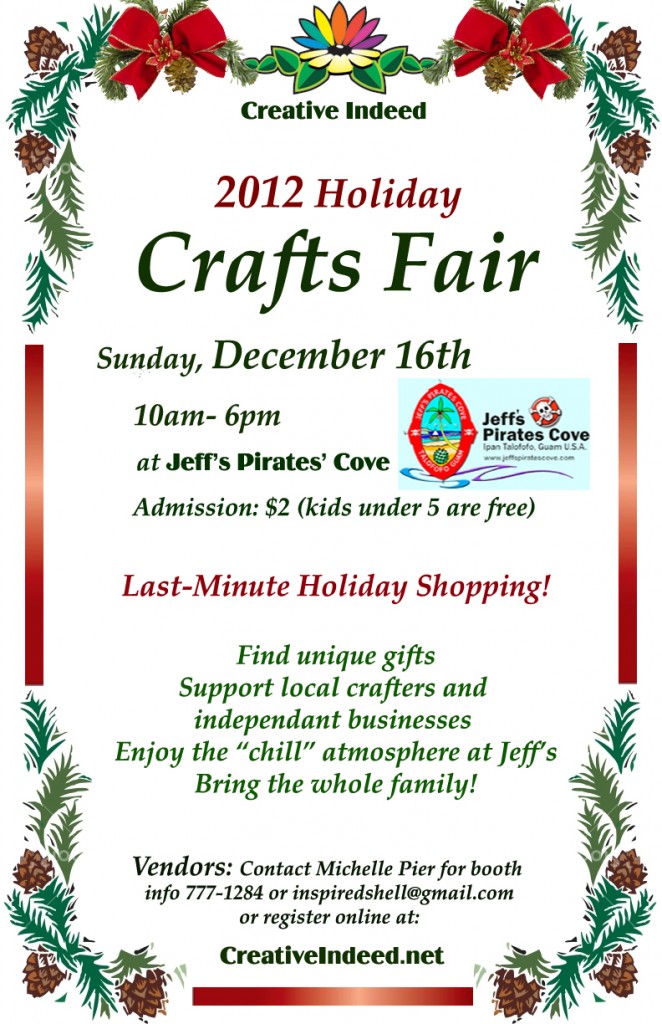 Hafa Adai friends & family of Creative Indeed,
 The holiday season is upon us! Thanksgiving is coming up real quick, and Christmas soon to follow. Creative Indeed is hosting the 2012 Holiday Craft Fair on Sunday, December 16th, from 10am-6pm, down at Jeff's Pirates' Cove in Ipan, Talofofo.
We encourage you to come down and enjoy a wide array of quality gifts for sale, display, and give-away. All day long local vendors will offer their wares to the public. You can expect to see original artworks, handmade clothing & jewelry, quilts, ornaments, books, Palauan storyboards, glass fish floats, imported goods & gifts, Micronesian handicrafts, cards, and more.
We will be raffling off prizes all day long, many of which are gifts donated by vendors as well as goodies from Jeff's gift shop. Apparel in the gift shop will be 30% off as well.
BBQ lunch plates, Greek menu & ice cold beverages all day long. Great music. Great beachy family atmosphere!