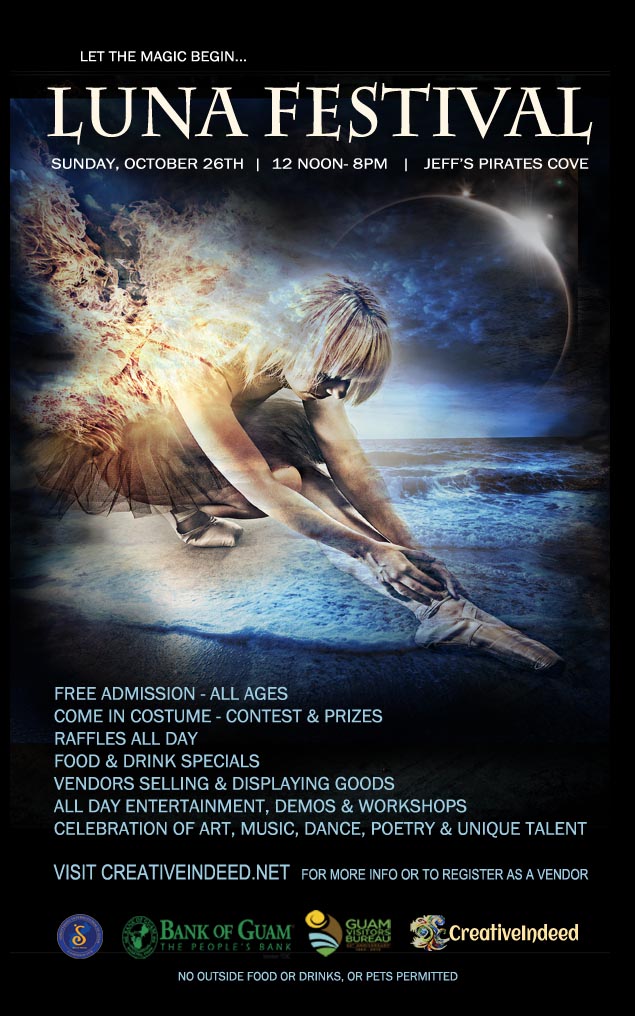 So far so good in all the Luna Festival preparations, things are lining up and ready for fun this Sunday. Wondering what the Luna Festival is? Here is a little video that gives an idea:
Here are some of the things you can expect at this year's Luna Festival:
Current lineup of creative awesomeness:
~CAHA Collaboration- Exhibit Featured Artist- Robert Taitano
~Costume/Cosplay Contest with prizes
~Live art areas for all ages (art)
~Facepainting & henna (art)
~Friends With Instruments (music)
~Ad Astrid (music)
~Blue Maroon (music)
~Fusion Dance Center (dance)
~SKIP Entertainment (dance)
~The Talent Box (dance)
~Teeh Manibusan (music)
~Rachael Esteves (music)
~James Park (poetry)
~Arielle Lowe (poetry)
~Team Shatter (bartending flair)
~Fashion Show (local designs)
~Yoga with Kat Barnett
~Laser lights & music in the evening
~Freeflowing creativity welcomed (nonscheduled activities)… possible drum circles, flash mobs, groups or individuals playing music whenever, wherever, unique talent, slack-line, fitness demos, etc.
CURRENT LIST OF VENDORS
1. Erica's House
2. Soroptimist International of Guam
3. Ernielyn Aflague- JB Nails Guam (Jamberry)
4. Amber Word- a.word- Blue Amber Trio
5. Dawn Reyes- Everything Guam
6. Adrienne Palacios- Readings by AJ, Younique
7. Caroline Goodman- Alaskan Sea Sister Jewelry
8. Guma' Mami Inc.
9. Claudia Lamparzyk- artwork
10. Vana Quichocho- Sushiphilic- figurines
11. Jeff Skvaril- wood carvings
12. Viktoria Sayrs- artwork
13. Shirley Bridler- Get a Glow On Bead Co.
14. Simeon Palomo- Tropical Art Guam
15. Richard Cruz- Quilts & Things
16. Lou Sablan- Silpada Designs Jewelry
17. Jill Aclaro- Jazzyjill
18. Ashley Bostwick- Scentsy & Facepainting
19. Pauleen Brechtfeld- Maiden Guam
20. Evan Cabrera- SimplyEC2013
21. Maria Dunn- Marleya Lace
22. Jami Hauter- It Works
23. Bryan Duenas- Tisu, etc.
24. Nichole Olhausen- Baba Yaga
25. Monica Baza Designs
26. Stephanie Quitugua/Dominique La Castre- headwear crafts
27. Guam Gift Baskets
28. Jen Hill- Mystical Lobsters Beaded Treasures
29. Janelice Frederick- Expresiones Boutique & Photography
30. Mannge Pops- local gourmet popsicles
31. BJ Bell- Caricatures
32. Ben Meno- Weavings, fruits, vegetables
SPECIAL THANKS TO:
BANK OF GUAM
SOROPTIMIST INTERNATIONAL OF GUAM
GUAM VISITORS BUREAU
Calvo Enterprises
Mariana's Variety
Baldyga Group
Kai Productions
For more details, or to register for a vendor booth, email info@creativeindeed.net