What an amazing adventure I just got back from! Some of you may know that for 5 years I've been participating in the Uplevel programs for life and business created by Christine Kane. This year I joined the Gold program for soul-driven entrepreneurs, and intended to make it to at least one of the three retreats held in Asheville, NC (see my other posts of exploring downtown Asheville, the River Arts District, and my adventures at Jonas Gerard's amazing gallery & studio).
Through the summer and fall, things were quite overwhelming and I didn't think I was going to make it to any of them. The last retreat was set for November 5th & 6th, and at the last minute I decided to check how many miles I had accumulated. I'd need 70,000 for a roundtrip ticket. I had 70,001. If that wasn't a sign to go for it, I don't know what would have been. I clicked purchase and sent my strategy coach an email telling her "I'll see you in a week!" That was especially amazing, because I had been on the phone with her a week earlier really sad that I wouldn't be able to attend, and that I'd just keep moving forward anyway. So I packed my bags and got things settled at home for my boys.
I was a little worried about traveling because I had a swollen toe (I suspect it was a bee sting, but not certain) that hurt really bad and forced me to limp around the entire time until I got to Asheville. I was also really dizzy, as I had gotten water in my ears from surfing a couple days before I left. The pressure was a bit painful on the plane, but not too bad. Once I was settled in Asheville, all dizziness and toe pains cleared up by the 2nd day. SO thankful!!!
 The first two days in Asheville, I spent exploring downtown Asheville, the River Arts District, and had amazing adventures at Jonas Gerard's gallery & studio. I took a million pictures, so you can see those posts separately for all their awesomeness.
Thursday and Friday were the retreat days, but I got to meet some of the ladies attending at dinner on Wednesday evening. Can I just say what a powerful and uplifting group of people that are in this program?! I just love the energy and how we are all striving toward the same ultimate goal of thriving in our businesses in a way that is aligned with our soul and purpose. This program has really pushed me to step into the ME that I am becoming, to expand and grow in leadership and abundance. The perfect blend of strategy and soul. It made a huge difference to be able to step so far out of my comfort zone and familiar environment to focus 100% of my energy and presence into working ON my business, not just in the daily stuff.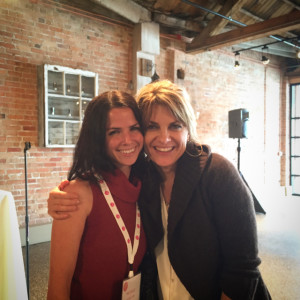 Christine Kane is an awesome business and life mentor and coach, I can't really say enough about how I resonate with what she has to offer. A lot of the principles and practices she teaches are things I have learned before, but her approach and presentation of the material is more my style. It has taken things that I "already know" and has helped me apply and solidify them in a way that feels like lifelong change. We cannot build our businesses in isolation. Support, guidance, and tools are absolutely necessary to grow in ways that we cannot on our own. This is the most powerful and effective mastermind group I have ever been a part of. We really got into the nitty gritty of strategy AND mindset. This retreat was phenomenal, and I can't wait to go to the next one. I am now back on Guam with a solid master plan, actionable steps, and a renewed passion for my business. Here are a few more pics from the retreat: