Photo by David Zimms.
Starting your own business is an intense undertaking. This post has been building in my mind for quite some time. There are many amazing points to sustaining your own solo-entrepreneur style business on Guam. However, there are also many challenges to getting yourself set up smoothly. It can be tricky if you are, for the first time, navigating the process of getting licenses, along with all the other logistics required to legally run a successful business. If your business is really simple, you might not utilize all the resources I mention in this post. I do recommend planning your business from a perspective of where you want to be, and not necessarily where you currently are. Here are the super basics from *my* experience starting a small business:
Note: Just to give you an idea of where my experience is coming from, I feel I've always had the entrepreneur spirit in me, and it was only a matter of time before I decided to start my own business. I started after having two kids, working from home during their nap times WHILE on welfare and food stamps, and no vehicle for almost a year. It was incredibly difficult, but I was committed to this vision I had of being able to work from home and create a career instead of "getting a job," being away from my kids all day, and still coming up short to pay the bills. Though I am considering changing my business structure eventually as things grow, this is what my business structure currently looks like: Creative Indeed is my business name (DBA), and it is a sole proprietorship. I have two licenses: Retail (mine is a "peddler's" license, as I sell my artwork in various locations, not at a brick and mortar location) and Service (to cover all the events, classes, workshops and other services). Therefore, this post will slant towards the perspective of a starting a sole proprietorship in simple retail/service, with no employees.
1. ENVISION: I always encourage people to start businesses doing what they LOVE to do. Get really clear about your message and your vision for your business. Envisioning and getting clear about the WHY behind your business is key to sustaining a lucrative and purposeful business. Don't just leave it all swirling in your head as a vague idea, write it down. Make it highly visible and accessible in your business. When challenges come up (and they will), you are less likely to give up on your business if you have a strong "why" that you are closely connected to on a physical, emotional or soul level.
Questions to consider:
What makes you come alive and feel purposeful?
What solutions would you like to see in the world, and how can you contribute to bringing about these solutions?
WHY is this important to you? Why does it matter? Why does it matter to your clients?
What strengths, talents, gifts, ideas, advice, skills, areas of expertise, passions, solutions, or future creations do you hold?
What can you offer?
Who would you love to work with?
Who could really benefit from what you offer?
Are there challenges that you have overcome that you could now help others with?
Who relates to you and vice versa?
Who will invest in themselves through your business? (<–read that one again).
How do you serve your ideal clients in a way no one else can?
What is your mission in your business, now and in the coming years?
2. RESEARCH: Spend time learning about what business life is like on Guam, especially in the industry you are interested in. Attend events or get involved in ways that you can experience first-hand the conversations that are happening in your area of interest. Search your ideas online, to see what already exists. Ask around. Check out Facebook groups, read books (yes, those still exist), articles, etc. Get a feel for the climate you'll be entering.
Who is doing something similar?
What makes your business unique?
Look for the gaps that you have solutions for.
How will your vision translate here on Guam? If you are new to Guam, do extra research on what the culture is like here, don't assume anything! Guam is a small place. Many business thrive based on the relationships they hold with other businesses or the individuals behind them. Burning too many bridges may not be good for business in general, but especially so here on Guam. Keep an open mind, focus on professionalism and have compassion.
Check out all the resources and opportunities available. There are many programs in place to support small businesses. Here are some Guam business resources:
3. DECIDE: Get used to making decisions, you will be making a ton of them, every day in your business. You will need to come up with a business name (DBA=doing business as). Depending on your type of business, you may or may not need to seek more in-depth support in setting up your business.
What kind of business will you have?
What legal structure fits your business needs best?
What will you be selling–products (retail or manufacturing) or services (such as consulting, events, labor, etc.)?
Where will you be banking?
Will you have employees? For me, I try to outsource needed services from other local businesses/vendors, because hiring employees will require me to change many things in my business structure, including getting an EIN number, taxes, etc. I am not ready for that step yet.
How will your bookkeeping be set up? Make sure you properly document things from the beginning! Use a system such as Quickbooks or even online cloud-based services such as Freshbooks for simple business bookkeeping and accounting needs. Record everything, and keep your business account separate from your personal stuff.
4. LICENSING: The first place you will need to go is to the Department of Revenue and Taxation (Rev n' Tax) building in Barrigada Heights. There is also the "One Stop" Building within the Department of Public Works (DPW), off Marine Dr. passed K-mart heading north. This is where you can supposedly get everything you need in one place, but that isn't always the case, so I would say go to Rev n' Tax first, but maybe you'll get lucky.  There you can get the initial paperwork needed (Business License Application, DBA form that you will fill out & have to have notarized, etc.).
For details about requirements/taxation, see Rev n Tax's page on Starting Your Business on Guam.
You can also preview the Business License Application from the govguamdocs.com website (also useful), but you need to have it printed in "triplicate" so don't bother. Just get the pre-printed forms from Rev n' Tax or One Stop.
If you are starting a little more complicated business (like food, daycare, manufacturing, etc.), you may need to get additional permits, inspections, etc.
Once you get your licenses all approved, paid and printed (last I checked, a retail license was $100 and service license $50), you are legally ready to do business. You will be required to file monthly Gross Receipts Tax (GRT), even if you do not make any money. You still need to file monthly. Don't forget to claim the "under $40,000" exemption if you are a new small business not making more than that amount in 1 year. You don't need to pay GRT under some exemptions, but you still need to file. You can file at Rev n' Tax, or file online at https://guamtax.com.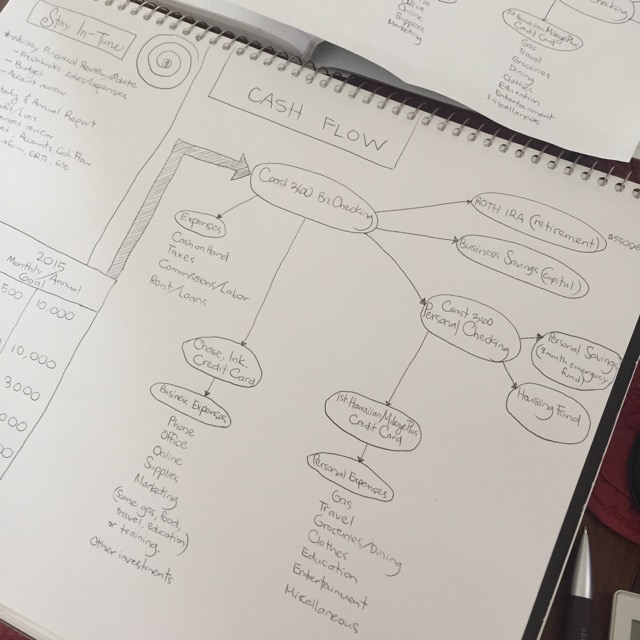 5. OPERATION: Whoohoo! Time to get on a roll! Remember to focus on building your business on a strong foundation. That is, a high-quality vision that feels important for you, and a solid business structure to support your vision.
A business plan can be like a manifesto, a written copy of what your business looks like and how it functions.
Systems will be your best friend. Have a system for everything: Daily operations, bookkeeping, customer service, marketing, content creation, networking, etc. Lay out all the steps that occur in each area of your business.
Streamline and automate what you can, and focus on what is essential in your business. What is your genius zone, your special expertise that no one else can do? Focus on that, and outsource anything that significantly takes away time from you doing your highest-value activity or task in your business.
Set up your environment/space (whether you have a brick and mortar shop, or have an office at home) to support your daily business operations. Stay organized!
Schedule in important things: when you need to settle financial reports (quarterly is common), file for GRTs (by the 20th of each month), renew your licenses (usually by June 30th annually), file for taxes (by April 15th unless you file for an extension), pay vendors, order supplies, meet with clients, creating content, etc.
6. MARKETING: Other than having solid systems built on a solid foundation, the single most important thing you can focus on in your business is marketing. Let's be real, your business is going to thrive if it's making money, and money comes from PEOPLE. Remember that. Your clients are the people who will be investing in themselves through your business. They are choosing to give you money for your products or services. They can't do that if they don't know who you are, what you offer, how to find you, how to buy your stuff and how to stay in touch with you. We are all so distracted on a daily basis, that we are not going to remember everything all the time. We need to be reminded regularly, and in ways that aren't intrusive or disrespectful. Don't be afraid to market your business, and your self. People are investing in the energy behind a business: YOU. So shine on. You don't need to be "sales-y" or aggressive. Be authentic, if you love your product/service, highlight why, and share away. Be real!
Decide the platforms you'd like to utilize for marketing. Research pays off. Even more important, consistency pays off. Consistency builds trust. People are naturally skeptical at first when presented with purchasing opportunities. Once they get to know you (through your marketing, or word of mouth from people they trust), it's your consistency that will provide them enough opportunities to buy from you. Get creative, try different things, feel out what works best for you in your business.
Marketing aspects to consider:
Your business image, or brand. This would include your logo, and all other "design" aspects of your business. If you are going to create a logo, I recommend having it done professionally. You get what you pay for, so shop around and pay for quality.
PLATFORMS: This is where your business operates from.

Do you have a brick and mortar store? The way you design and set up your space matters in marketing. Appeal to your clients' eye and buying habits.
Website: These days it is pretty essential to have a website with your business image and information clear and easy to find. I will have to create a whole other post on marketing alone, and probably one just for website creation/maintenance. Again, I recommend quality, but no need to go overboard. Focus on simple & professional.
eZine, Newsletter, email subscription. Don't underestimate these!
Social Media: Twitter, Facebook, Tumblr, Instagram, Pinterest, Flickr, and many more. You don't need to do it all. Remember, quality, not quantity.
Print advertising: Newspapers, magazines, fliers, shirts, and other media publications. No, they aren't dead.
Digital advertising: Through others' websites, social media, apps, etc.
Collaborations: Work with others who compliment your business. Share, trade services, do a group project in which all parties benefit. In this case, quality meets quantity to market exponentially.
Promotional events/programs/activities.

Have a marketing budget, no matter how small.
Automate whatever aspects you can! Everything in your business should have a system, including your marketing. You can schedule marketing, but it is important to remember that when you own your own business, you are pretty much ALWAYS marketing. You are your business, so be your best self.
REMEMBER: Build your business with integrity; quality over quantity. Be true to yourself, be honest in your business, and be enthusiastic with your clients. Respect the people who invest in you, and don't do business with people you don't respect. Find the people who love your business. If something isn't working, ask yourself what changes can be made toward solutions. There are always solutions! Be strong enough to continue building your business with purpose, and flexible enough to bend and sway with the challenges that come up along the way. I have found that a balance of the two bring me a lot of joy and freedom in my business.
Other resources for artists/entrepreneurs on Guam:
Guam Museum (still being built as of this writing)
Standard Office Supply
Ben Franklin Crafts