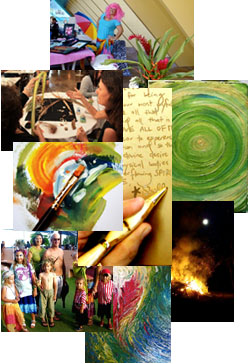 "Do not ask what the world needs. Ask yourself what makes you come alive, because what the world needs is people who have come alive." –Howard Thurman
So…
What makes YOU come alive?
Imagine that you aren't born yet and you are preparing to enter into your physical life on Earth. You feel so loved and excited, maybe a little nervous too but in total faith and trust that you are exactly where you want to be. What do you want to feel and experience and learn while you are there?
What mission makes you feel a bit giddy inside, because you know it is perfect for you? Sense your purpose that you choose to fulfill and feel WHY you choose it.
What vision makes you Come Alive?? What would excite you to WAKE UP in the morning? What do you love? What are you here to learn in this lifetime? What are you here to teach the world?
Take a deep breath and Say YES with a smile!
To come alive, is to feel positively energized throughout your whole being, physical, mental, emotional, spiritual, in ANY amount. It is that moment when you feel a sense of awe, purpose, joy, gratitude. It is when you feel lifted in spirit and grounded in your body. 
The key word here is FEEL. To be alive is to feel, to sense things. When we are present in our "being-ness," all things become possible. Solutions open up, walls come down, eyes open wide, fingers tingle, you feel grounded and uplifted all at once.
Creative Indeed is all about facilitating this "coming alive" sensation; through intuitive artwork, creative writing, and meaningful events.
These outlets serve creative expression and connection. I love sharing my own experiences and would love to hear from you too.
SO much love to you, Enjoy this journey!